FROM IVORY TOWER TO BREAKING NEWS
WRITING WORKSHOPS FOR ACADEMICS, NON-PROFITS, CORPORATIONS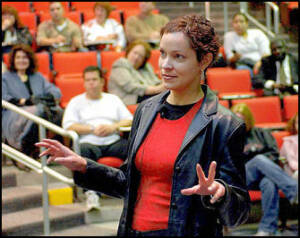 Whether you are hoping to translate a scholarly essay into a newstand article, or want to express thoughts more clearly for a mainstream audience, this 5-hour workshop is carefully tailored to meet the unique needs of its participants.
"Dr. Zook's From Ivory Tower to Breaking News workshop offered me practical tips in getting my voice heard and my future Op-Ed works considered in nationally recognized publications. I am confident that the tools of the trade discussed in this workshop will enable me to translate my research into mainstream markets." 

– Anthony J. Santella, Assistant Professor of Health Professions and Public Health, Hofstra University
Moderator and creator of her own unique brand of intensive writing workshops, Kristal Brent Zook, Ph.D. is a journalist, author and editor with a rare combination of talents. She brings both investigative and reporting skills to rigorous intellectual and academic training in various interdisciplinary fields.
 "Kristal Brent Zook is a brilliant, creative thinker …  She was able to answer more questions than I knew I had about transitioning from academic to trade publishing.  Thank you for the invaluable faculty workshop!" – Linda R. Young, Ph.D., Senior Staff Psychologist, National University, Seattle University
A professional whose work rests squarely in the margins between the academic disciplines of cultural studies, women's studies, African American studies, and popular journalism, Dr. Zook is uniquely qualified to shed light on the editorial processes of magazines and newspaper publications.
"Many thanks for your excellent seminar yesterday. It was informative, stimulating, insightful and even fun.  Without being overwhelming, it revealed a wealth of information and some critical perspective on writing for a wide audience."  – Stanislao G. Pugliese, Ph.D., Professor of History and Queensboro Unico Distinguished Professor of Italian and Italian American Studies, Hofstra University
"I love to see great teaching, and Dr. Zook has the expertise and enthusiasm of a great teacher….not only did I benefit, but my students did as well." – Cindy Butos, Senior Lecturer, Trinity College, Hartford, CT
"Thanks for giving me the confidence not to quit on this. It's actually led to other writing opportunities and talks…!" – Anthony Christian Ocampo, Ph.D., Assistant Professor of Sociology, Cal Poly Pomona and Ford Foundation Fellow, UC Riverside School of Public Policy (An Op-Ed Project mentee)
Her workshops are intense lessons offering in-depth, personalized guidance in the following areas: 

shaping market academic research for a general market audience; eliminating jargon; moving critical analysis from the ivory tower to the newsstand; helping publicists and marketing professionals improve their pitches to reporters and journalists; and understanding the "5 key elements a successful pitch."
Avoid blandness and the passive voice
Spice up your prose
Focus your message and get to it
Organize thoughts
Create more polished and elegant prose
Know your audience
"I thoroughly enjoyed the workshop.  It introduced me to the process of writing for a larger audience. The concepts, though not necessary new, were framed in such a way by Kristal to really push me to seize on and tell important stories.  The targeted and clear hand-outs provided excellent guidance and the activities really scaffolded the editorial writing process. I already recommended to my chair that Kristal come and talk to the SOE! We need her to help us get our voices heard!" – Catherine DiMartino, Ph.D., Assistant Professor, Doctoral Program Co-Director Educational & Policy Leadership, Hofstra University